Ich bin ein ExBerliner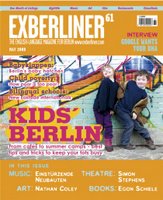 ...as Kennedy is probably saying now.
The Berlin magazine
ExBerliner
has published a review of my book and an interview in this month's edition. If you haven't had enough of me already, please go click
here
.
I am also off to Berlin later this month (28 May) to give a reading at
Kaffee Burger at 9.00pm
. Do come along. I'll be the lanky bloke at the front with a book on his lap.
If you can't bring your tired finger to click on the magazine itself, here are a few tit-bits.
"This is the ultimate introduction: perceptive, comprehensive, and so evocative of the decadence and decay that marked turn-of-the-century Vienna that the streets and cafés seem to etch-a-sketch themselves onto the pages, a kind of literary biopic." "Lewis Crofts brilliantly explores Schiele's fascination with female forms, starting with that of his sister, and their metamorphosis into symbols of patrician sanctimony. These sections of the novel are mesmerizing and come close to echoing the morbidity of writers such as Joseph Roth."
Labels: Berlin, Exberliner, Lewis Crofts, Schiele